Ready to achieve higher success rates?
Contact us today for a free initial consultation!
Executive Summary
This white paper examines seven key disciplines that drive organizational capabilities.  Whenever a change is needed in organizational capability to achieve business goals, two of more of these disciplines is needed to drive the desired changes.  These disciplines are most powerful and productive when they are used in concert with one another.  Thoughtful and deliberate mixing of the disciplines yields the best success rates.
The Business Ecosystem
All businesses exist to provide value into the marketplace.  Businesses do this by producing products and/or services that others want to consume.  The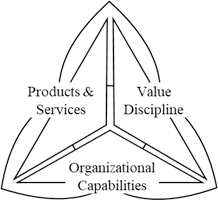 product and service mix makes up 1/3 of the graphic to the right.  The desire of the market to consume your products/services versus a competitors is dependent upon differentiation.  Differentiation is often referred to as value disciplines, and it makes up another 1/3 of the graphic to the right.  Our product/service mix along with differentiation defines what a company delivers to the marketplace, which is exceptionally important for establishing strategic direction.
The last 1/3 of the graphic to the right is of critical importance though.  It's the organizational capabilities that allow a business to produce in the manner desired.  If a company plans to produce computing software, then it needs to have a software development capability.  If that same company wants to differentiate their software by being first to market with the latest features and functionality, then it may also need to have an agile software development capability.  Of course, that's not the only capability they would need; the list gets extensive quickly and could include things like product lifecycle management, project management, and virtual distribution.  The important point to note is that a company's set of organizational capabilities drives their production which in turn results in differentiated products/service to the market.  These three are inextricably linked and interconnected, and they represent a good and basic business ecosystem model.
Changing Organizational Capabilities
There's quite a bit of research out there that defines organizational capabilities, but not nearly as much about how to change them.  As business leaders, we need to be able to change organizational capabilities deliberately, intentionally, and planfully…and then generate desired results!
Any change in organizational capability requires the use of two or more disciplines, out of a set of seven.  Those 7 disciplines are depicted below: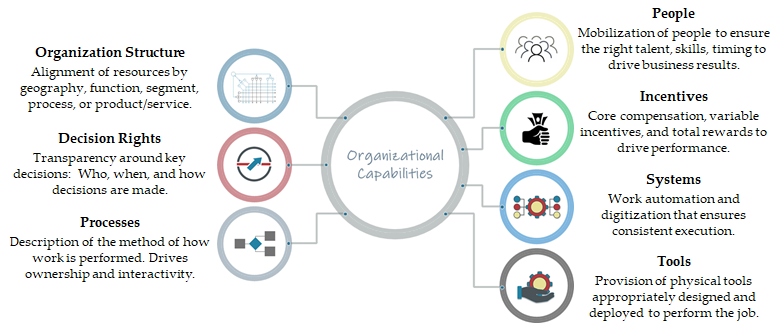 To use the software development example from earlier.  If one needed to add the capability to do agile software development, it may require the use of the following disciplines:
Organizational Structure:  Agile teams are structured differently than others.  They are often assembled dynamically from a pool of resources and then deployed in short sprints.  Adjusting an organizational structure may be required to make the shift to an agile development methodology.
Decision Rights:  Resource allocation is a really big deal in agile development; therefore, being intentional about who make decisions around capital and operational investments is paramount.  Decision rights would define the key decisions and who, how, when they get made.
Processes:  Some would say that agile kind-of throws process out the window, but that's not true at all.  The process rigor is different and can often be liberating.  Process design will be needed, if not around development, certainly around product lifecycle management, investment planning, and downstream distribution.
People:  New talent may be needed to help make the transition to agile. There may also be a need to upskill your current staff so that they have the skills needed to work in the new agile methodology.
Systems & Tools:  New systems and tools will be needed to support software development with an agile methodology.
The only discipline that was not mentioned in this example was incentives.  One could certainly put some additional incentives in-place to drive new behaviors.  If that were done, the example of a new software methodology requires at least 6 and may all 7 of the disciplines.  More often than not, this is the case.  The changes that we need in organizational capability, in order to achieve our business initiatives, is multidisciplinary.
To achieve higher success rates with business initiatives, it is paramount to identify the right mix of the disciplines that needs to be applied.  Moving too fast with one discipline can do a lot of harm to your company.  There are many common examples of this, repeated reorganizations is one of the most common that we've all likely felt in our careers.  These negative impacts to our companies and our cultures can be avoided by "slowing down to speed up."  Slowdown in the front-end of an effort, so that the proper mix of the 7 key disciplines can be applied and sequenced.  This ecosystem approach will help ensure greater success.
---
For further reading on this subject, pick up Dr. Albrecht's book:
Organizational Design that Sticks!
You can order it through major booksellers, and online through our website.
---
How We're Better
Our Principal Consultants are skilled in 7 disciplines, and they lead the front-end of our engagements.  Once diagnosed, we select the team that has the right mix of background to help you solve the identified root causes.  Because we believe in capability-building, team selection includes your internal resources where it makes sense for you.  We work alongside you and partner with your internal talent.  Alonos consultants help your organization become competent, elevating your success and improving performance.
Since our Principal Consultants have depth of skill in all 7 disciplines, we are the easiest firm to do business with.  If you have a manager who believes they have an organizational structure problem, we will begin our discussions at that point.  This ensures that your business partner is heard and understood from the beginning, and then we will work through the diagnosis together.  We can engage from any of the 7 disciplines.  We will work with you on a holistic solution that drives improved business performance.
---
Contact Us
Our offices are based in Dallas, Texas.  We operate a network of qualified consultants globally to meet your needs wherever you do business.
Email:                                                                                     Phone:
information@alonos.com                                                    +1 (469) 573.1002
---
About the Author
Dr. Dale J. Albrecht is an Executive Partner and Principal Consultant for Alonos.  He is the author of the book "Organizational Design that Sticks!"  He is also an active member, advisor, and author for the Forbes HR Council and an Adjunct Professor for both the University of Texas at Dallas and Texas Woman's University.  Dr. Albrecht is an active member of the National Association of Corporate Directors (NACD).
Dr. Albrecht has fulfilled roles in Performance Consulting, Organizational Design & Effectiveness, Project Management, Engineering, Technical Operations, Human Resources Leadership, Education, and Change Management.  He has worked in several industries including retail, manufacturing, telecommunications, medical devices, construction, and Department of Defense.  He has considerable experience consulting with most corporate functional areas including supply chain, engineering, software development, sales, marketing, human resources, information technology, and service/support.
Dr. Albrecht completed his terminal degree in Business Administration with Swiss Management Center University in Zug, Switzerland.  He holds a Master's in Business Administration from Columbia Southern University.  He has a Bachelor's of Science Degree in Workforce Education & Development from Southern Illinois University at Carbondale, where he graduated Summa Cum Laude and a member of the Golden Key National Honor Society.  He holds a certificate in Organizational Development from DePaul University.  He is a certified Senior Professional in Human Resources, a SHRM-Senior Certified Professional, an appointed Six Sigma Master Black Belt.  He also holds a certificate in Project Planning, Analysis and Control from George Washington University.