Ready to learn more?
We have a library of information and educational programs.  Contact us to discuss your learning needs.
Executive Summary
This white paper discusses how to approach organizational design so that businesses can enjoy high success rates.  The approach that our firm uses builds on expert knowledge of organizational design practices and goes further to employ the use of multiple disciplines to drive business improvements.  Our research and experience has shown that proper analysis of performance issues and selection from a set of seven disciplines can more than double the success rate of business initiatives!
Classic Practices
The large failure rate puts business leadership in a position where redesigns are a constant occurrence.  They also have dramatically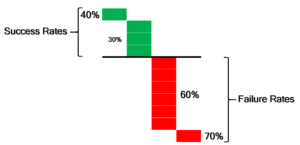 negative effects on a company's culture.  As the failure statistics demonstrate, adjusting an organizational structure (by itself) is not necessarily going to improve performance.  To drive performance improvements, organizational design should be conducted in combination with other disciplines.Classic approaches to organizational design yield poor success rates.  Organizational change initiatives only achieve between thirty to forty percent success rates.  These rates have remained unchanged since the mid-70's.  For fuller appreciate of what that means, it helps to flip the percentages around; that means the failure rate of organizational change initiatives is sixty to seventy percent!
Common Failure Point
Working on only the top 2-3 layers causes failure because it misses where the work is actually performed.It's useful to understand where many engagements encounter issues and risk failure.  The most common failure point in organizational design engagements is the tendency to view things too simplistically.  The belief that all the engagement amounts to is a set of boxes and lines on a page, dooms the engagement from the start.  Organizational chart development is not organizational design.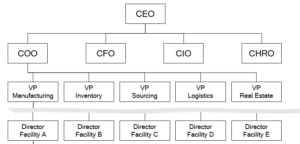 Granted, most people do intuitively think about the distribution of work and a good person for the resultant jobs; however, few follow a formalized method to ensure that the root causes of business performance issues are fully understood and addressed.  Solving the root causes of performance requires an in-depth view of the organization, and it requires the use of 7 disciplines that all work together to impact performance.
Approaching for Success
Research has shown significant positive correlation between systems thinking, process orientation, and improved performance.  The body of work around systems thinking is substantial.  It is essential to start all organizational design engagements with a thorough understanding of the business
Products and Services
Every business produces products and/or services.  The spectrum of these need to be understood along with how they are positioned among themselves.  Then, each of the products and services need to be understood compared to competitors and potential substitutes.  Organizational design engagements need to promote and improve on the company's ability to deliver products/services more effectively and efficiently.
Market Value Differentiation
How the company differentiates itself in the marketplace is the next most essential element to understand.  Organizational design engagements must preserver and support the company's differentiation.
Organizational Capabilities
The strategic decisions that a company makes on its products, services, and market differentiation inform what it will need for organizational capabilities.  All organizational design engagements should directly address the organizational capability changes that a company needs to improve performance.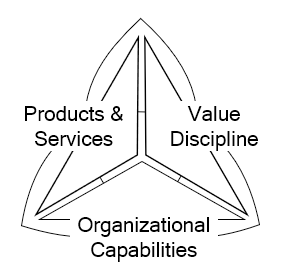 These three work together to establish a basis for organizational design.  When fully and properly understood, organizational design can be applied to effect positive performance improvements.
Performance Improvement Disciplines
There are seven disciplines that work together to improve business performance.  Organizational design/structure is one of the seven.  Initial diagnosis and root cause analysis is critical; it allows the business to properly attribute performance gaps to the right disciplines.  It is also essential to perform the diagnosis with all seven disciplines in-mind and in-scope.  No company or organization is perfect, and consequently once can always find issues with any of the seven.  In other words, if you go looking for organizational structure issues, you are likely to find some.  If you go looking for process design issues, you are likely to find those too.  If you go looking for incentive design issues, you are likely to find some of those as well.  Done independently, each of the disciplines become somewhat self-fulfilling.
Organizational Structure
Decision Rights
Process Design
Systems
Tools
People
Incentives
The only way to gain maximum leverage is to view the performance gap with all seven disciplines in mind during the diagnosis stage.  Then, a mix of disciplines can be selected that will drive the desired performance improvement.  This multidisciplinary approach leverages systems-thinking and dramatically improves success rates!
---
For further reading on this subject, pick up Dr. Albrecht's book:
Organizational Design that Sticks!
You can order it through major booksellers and only through our website.
---
How We're Better
Our Principal Consultants are skilled in 7 disciplines, and they lead the front-end of our engagements.  Once diagnosed, we select the team that has the right mix of background to help you solve the identified root causes.  Because we believe in capability-building, team selection includes your internal resources where it makes sense for you.  We work alongside you and partner with your internal talent.  Alonos consultants help your organization become competent, elevating your success and improving performance.
Since our Principal Consultants have depth of skill in all 7 disciplines, we are the easiest firm to do business with.  If you have a manager who believes they have an organizational structure problem, we will begin our discussions at that point.  This ensures that your business partner is heard and understood from the beginning, and then we will work through the diagnosis together.  We can engage from any of the 7 disciplines.  We will work with you on a holistic solution that drives improved business performance.
---
Contact Us
Our offices are based in Dallas, Texas.  We operate a network of qualified consultants globally to meet your needs wherever you do business.
Email:                                                                                      Phone:
information@alonos.com                                                    +1 (469) 573.1002
---
About the Authors
Dr. Dale J. Albrecht is an Executive Partner and Principal Consultant for Alonos.  He is the author of the book "Organizational Design that Sticks!"  He is also an active member, advisor, and author for the Forbes HR Council and an Adjunct Professor for both the University of Texas at Dallas and Texas Woman's University.  Dr. Albrecht is an active member of the National Association of Corporate Directors (NACD).
Dr. Albrecht has fulfilled roles in Performance Consulting, Organizational Design & Effectiveness, Project Management, Engineering, Technical Operations, Human Resources Leadership, Education, and Change Management.  He has worked in several industries including retail, manufacturing, telecommunications, medical devices, construction, and Department of Defense.  He has considerable experience consulting with most corporate functional areas including supply chain, engineering, software development, sales, marketing, human resources, information technology, and service/support.
Dr. Albrecht completed his terminal degree in Business Administration with Swiss Management Center University in Zug, Switzerland.  He holds a Master's in Business Administration from Columbia Southern University.  He has a Bachelor's of Science Degree in Workforce Education & Development from Southern Illinois University at Carbondale, where he graduated Summa Cum Laude and a member of the Golden Key National Honor Society.  He holds a certificate in Organizational Development from DePaul University.  He is a certified Senior Professional in Human Resources, a SHRM-Senior Certified Professional, an appointed Six Sigma Master Black Belt.  He also holds a certificate in Project Planning, Analysis and Control from George Washington University.
Maria de Lourdes Gomez is a doctoral candidate in Business Administration at Swiss Management Center University.  She is an accomplished and highly-skilled business professional leveraging nearly 25 years of marketing and project management leadership in several industries such as retail, consulting, medical, nonprofit, environmental, and education.  Her specialties include strategic planning, loyalty and growth programs, promotion and advertising campaign execution, brand management, and new product launches in both domestic and international markets.  Furthermore, as a strategic and tactical thinker, Maria also has extensive experience in ecommerce and digital initiatives, sales operations, analytics, cross-functional teams, printed and social media, broadcasting, and vendor management.  She has a deep understanding of multicultural marketing thanks to her fluency in Spanish and Portuguese, as well as business proficiency in French and Italian.